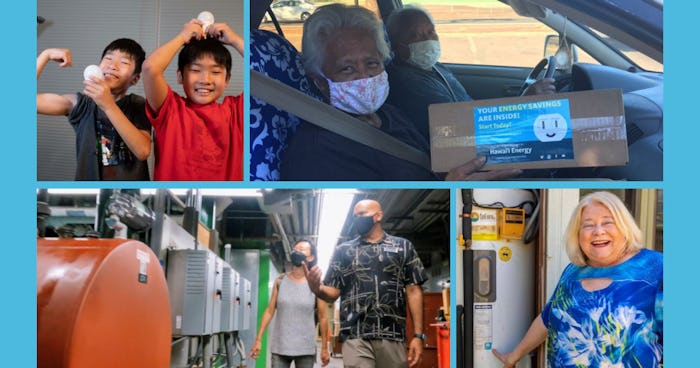 If you've seen the movie Don't Look Up, it draws a parallel to what we are facing with climate change. In this doomsday scenario, a comet is set to strike earth and wipe out the planet. While in reality there is no comet, the climate crisis is real and it's happening now. When talking about climate change, it can be overwhelming. Earth Month is a perfect opportunity to ask ourselves "What can we do to help our planet?"
Hawai'i Energy's mission is to empower island families and businesses to make smarter energy choices to reduce energy consumption, save money, and pursue a 100% clean energy future. We celebrate Earth Month and the critical part that energy usage plays in our efforts to combat climate change. Energy efficiency is one of the quickest and easiest steps to reduce our carbon footprint while bringing immediate savings to our energy bills. 

We are seeing the spike in cost of gasoline and electricity as a result of the conflict in Ukraine. It is more important than ever to take actions to minimize the impact of these price spikes in the short term while accelerating our work to transition away from fossil fuels, which in the worst of cases, are funding global conflicts and unrest.

What else can we do? Start by having a conversation about climate change and the steps we can take with family, friends, and co-workers. What the people we know think, say, and do has the biggest influence on our own thoughts and actions. The same goes for energy efficiency! Sharing how you, your family, or your business is decreasing energy costs is a big step in reducing our energy use.

Hawai'i Energy provides incentives and technical assistance to make the transition to being more energy efficient. Smart devices and innovative technologies help make this easier without impacting your life. The goal is to reduce waste. For more information on what you can do in your home or business, visit HawaiiEnergy.com.
---
Next Article
New Programs at Re-use Hawai'i
April 5, 2022
Cohort VI Fellow Quinn Vittum highlights two new offerings from Re-use Hawai'i: the Local Tree Reclamation Project and their Workforce Development Program.
Read More