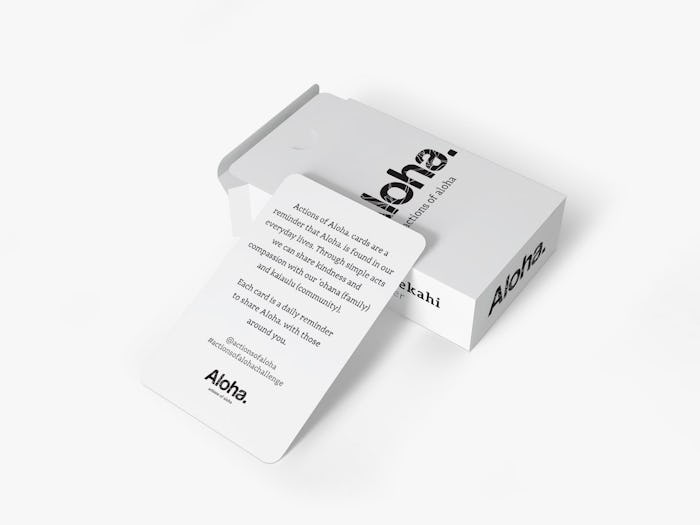 DTL created Actions of Aloha to encourage connection, compassion, and aloha for ourselves, our ʻohana, our lāhui, and our ʻāina. With the outpouring of support from the community throughout Hawaiʻi and around the world, Actions of Aloha donated $20,000 by the end of 2020: $10,000 to ʻIolani Palace and $10,000 to Waimea Valley. Their third deck of cards is a collection of 53 ʻŌlelo Noʻeau compiled from Mary Kawena Pukui's book, ʻŌlelo Noʻeau: Hawaiian Proverbs & Poetical Sayings with a charted $10,000 in profits to be donated to Bishop Museum by the end of February.
A new partnership with E Hoʻopili Mai celebrates ʻŌlelo Hawaiʻi (Hawaiian language) through a set of cards with everyday conversational phrases. Launching by March, these cards encourage you to practice ʻŌlelo Hawaiʻi with a friend or challenge each other to show aloha through your words. There are no limits in the ways we can express and share aloha each and everyday.
DTL's poʻo, Mālia Kaʻaihue, co-founded Kuʻu Home Aloha, a new Hawaiian storytelling company bringing elements of Hawaiʻi and aloha into your home. They introduced a 2021 ʻalemanaka (calendar) featuring work from Native Hawaiian artists, photographers, educators. The calendar includes Hawaiian lunar phases, tides, photos of wahi pana, Hawaiian historical dates, and a space for ʻohana to note their intentions for each month.  We encourage you to follow @actionsofaloha on Instagram and share Aloha.