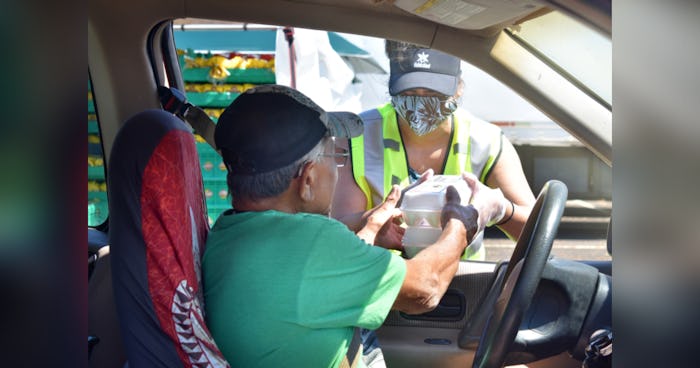 Since the COVID-19 pandemic began, food insecurity has grown by more than 50% in Hawai'i.
Today, nearly 250,000 Hawai'i residents struggle with hunger, including hard-working parents, kūpuna, and more than 81,000 keiki. Hawai'i has the 2nd highest rate of childhood food insecurity in the United States.
Hawai'i Foodbank is a primary link in the state's food security network. About a year into the pandemic in May 2021, Cohort VI Fellow Amy Marvin joined the Foodbank as its President and CEO. She sat down with us to talk about her transition to the nonprofit organization, the challenges and successes they've faced during the pandemic, and what's ahead for the Foodbank.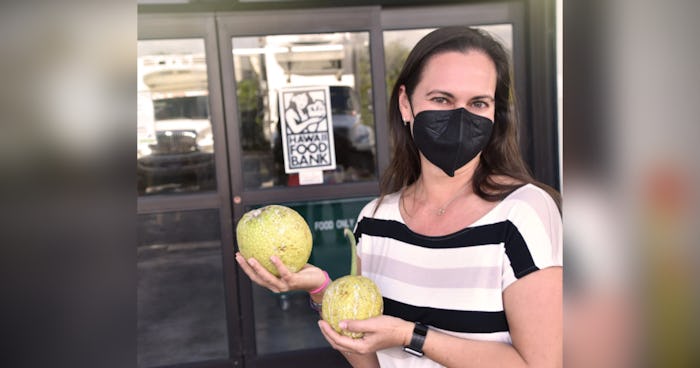 "The Omidyar Fellows program had a lot to do with me deciding to take this role," Amy says.
 "I saw so many people in the Forum of Fellows who were doing all kinds of work to help the community and people more broadly. It really made me think that I was ready to get involved in an organization where the work that I did every day could be more directly connected to helping people."
She was excited about the opportunity to join Hawai'i Foodbank and do something different after being in the museum industry for more than 15 years. While her previous position had her working from home in her basement in the early part of the pandemic, her new role meant going to the Foodbank's warehouse daily.
"[The Foodbank] never went virtual; everyone came in to work every single day," she said.
The pandemic brought lots of other changes to the Foodbank. Previously, an average of about 46,000 pounds of food went through its warehouse each day. After the pandemic, it tripled to 150,000 pounds. As the need for food skyrocketed, food donations from individuals and retailers also fell–a result of store shelves being emptied by shoppers reacting to the possibility of pandemic-related supply shortages. The Foodbank responded by changing its model, increasing its budget for food purchases from $400,000 annually prior to the pandemic to a monthly average of $1M at the beginning of the pandemic, all to meet the increased demand.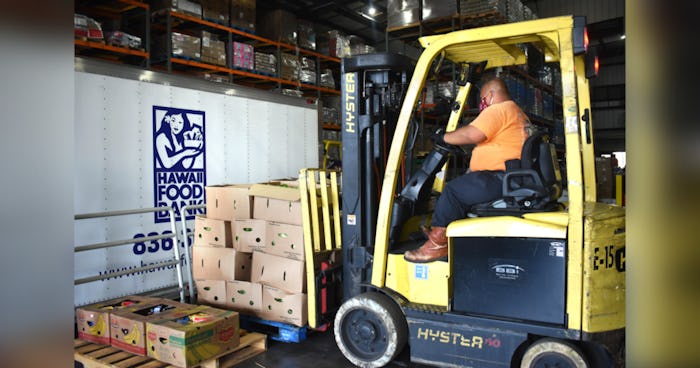 "The pandemic really brought to light the idea that many of our neighbors, our colleagues, our family members—individuals in our community are facing hunger in Hawai'i today. All of a sudden, huge swaths of people needed to ask for help, in a lot of cases for the first time ever," she said. At the same time, she was inspired by the swell in community support. 
"One of the beautiful things we saw was that so many people stood up to help," she said. She mentioned many first-time donors and first-time volunteers, including displaced workers from the hotel and restaurant industries who filled the need left by the Foodbank's kūpuna volunteers that had difficulty leaving their homes early on. "It was a whole new cohort of young people who just wanted to help. It was special to see the community come together and give however they could give."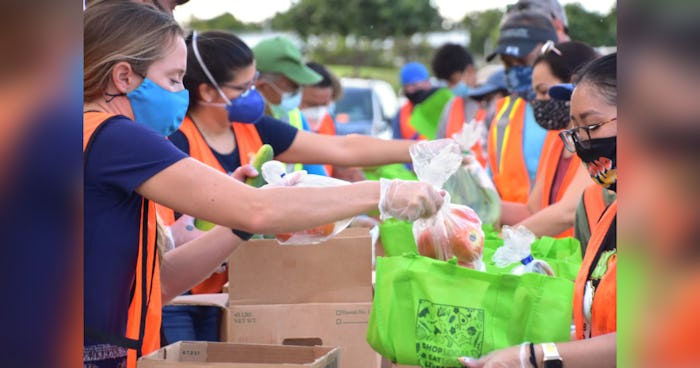 Even so, almost two years after the pandemic began affecting Hawai'i, the need for the Foodbank's services remains elevated.
"After the great recession [of 2008], it took about 10 years nationally for food insecurity levels to return to where they were prior to the recession," she said. "However, our goal is not to get back to pre-pandemic levels of food insecurity. Our goal is to get that number down to zero." She aims to harness the energy, enthusiasm, and support from the Foodbank's donors, volunteers, and partners to eliminate food insecurity in Hawai'i. 
"What are we going to do as a community to make sure that we're feeding all of our people, and what does it mean to address food insecurity from a broader perspective? We have the ability to figure out how we can solve this, but it has to be from a network approach."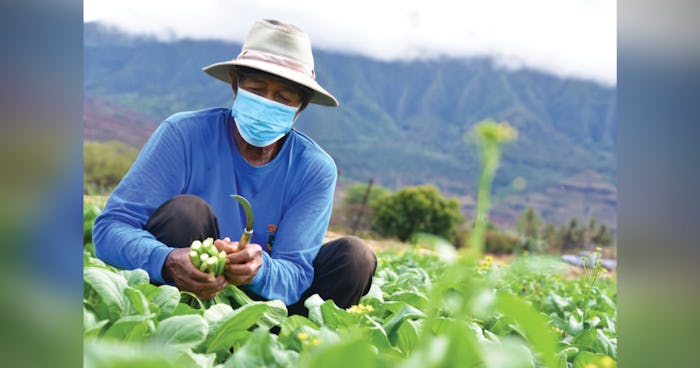 Amy feels that the Omidyar Fellows and the Forum of Fellows has been a key resource in taking this network approach.
"One thing I value most about the [Omidyar Fellows] program is the sense that everyone is in it for the right reasons; they're all here to help make this place a better place." She added, "When I stepped into this role, I had this established network of folks that are working in the same complementary spaces. They may not be directly addressing hunger, but that is just one aspect of a community not supporting its members – it could be housing, education, other social services. There's so many things we can do as a network and it's been so amazing to have some of those established, cross-sector relationships."
In 2022, the Foodbank plans to continue to cultivate and strengthen all their networks and partnerships to help fight food insecurity. Amy also invites individuals to get involved through volunteering and for businesses to engage with the Foodbank's new corporate partnership programs.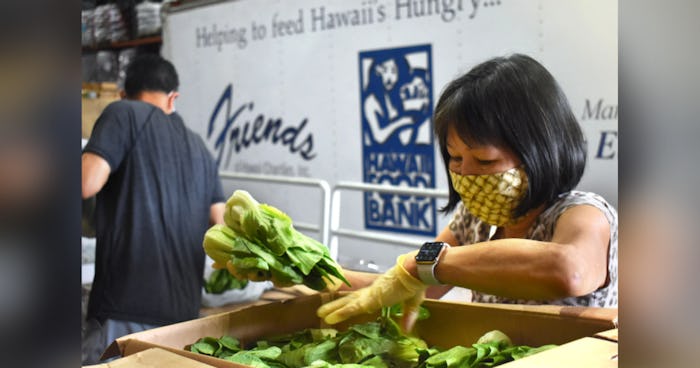 "We have great opportunities for whole teams to come to the warehouse to sort food and pack boxes together as a team-building experience. It also helps to increase understanding of the work that we do and how important it is."
As we navigate through this pandemic and beyond, Amy's hope is that "we all continue to rely on each other." She pointed out that during COVID, the Foodbank has been able to call upon so many partnerships and that people were ready to support and work together.
"That's what I would like to offer: if you need help, give me a call! I'm happy to see if I can help or if someone I know can support. Keeping that spirit of collaboration going, even as we get out of emergency mode—that's my hope."