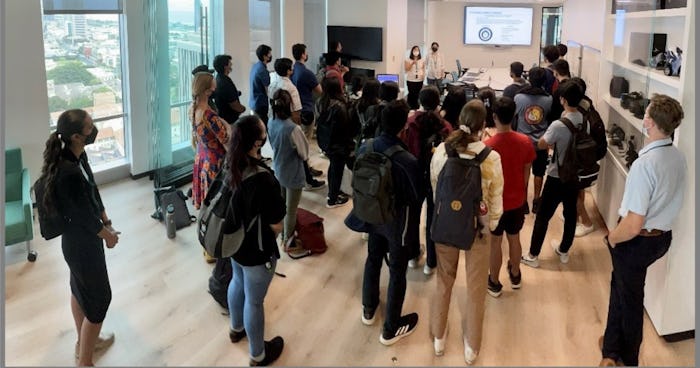 Meaningful Work From Islands Rich In Community
Booz Allen Hamilton has dedicated more than 80 years of service to the Department of Defense, including Hawaiʻi and the Indo-Pacific, enabling us to reach deep into the areas we serve to invest our efforts in creating and maintaining equitable and sustainable jobs. With a workforce of more than 400 people in the Indo-Pacific and Hawaiʻi, we strive to keep our staff on the cutting edge with the technical training and certifications to serve the mission-critical jobs of the U.S. Military. Our technology and mission specific work ranges from data science to mission readiness, threat reduction, digital transformation, cyber security to engineering.  

Booz Allen is dedicated to creating opportunities for people who live in or wish to return to Hawaiʻi. The firm's broad range of technical work provides a unique opportunity to employ job seekers ranging from Hawaiʻi-based students and college graduates to transitioning military and veteran candidates. We are dedicated to and invested in developing and maintaining a workforce that is technologically relevant so we can support an environment where Hawaiʻi's economy will thrive and grow.

Ed Barnabas, Director of Advanced Technology Solutions for Booz Allen's Indo-Pacific region, notes that Hawaiʻi is focused on technology adaptation and tech-enabling its workforce, and that Booz Allen has been an enabler of this vision for years. "How we support our community is as important as the mission we support for our defense partners," Ed says. "We believe investing in STEM efforts and connecting future technologists to careers in defense can happen in many facets and with all ages."

Bob Lietzke, vice president of Booz Allen's Indo-Pacific East business has served as a workforce development leader in Hawaiʻi for more than 20 years. As a retired U.S. Air Force Officer and former military spouse, Bob has supported veteran and military spouse fellowships and worked with the Hawaiiʻi Leadership Forum's SMALLIFYprogram, the Chamber of Commerce, and Hawaiʻi Defense Alliance to help elevate on-island internships. "Workforce development is a team sport," says Bob. "It takes government, academia, and the business community working together to prepare our local students for and educate them on local opportunities. It also, involves playing the long-game and providing meaningful rewarding career options for those who want to return home to Hawaiʻi."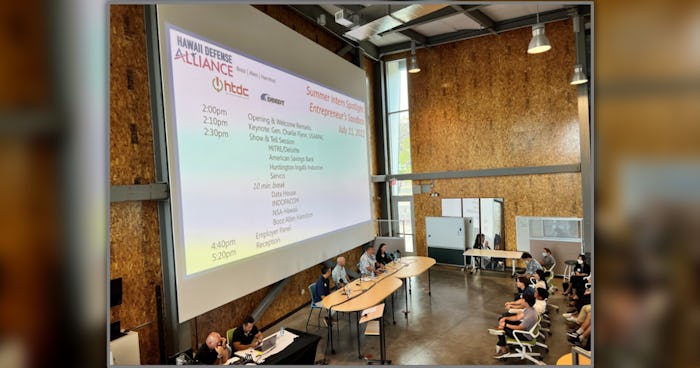 Global Company with Local Roots
Booz Allen has been a presence in Hawaiʻi since the 1960s when we conducted the Kamehameha Schools planning survey for the Trustees of the Bernice Pauahi Bishop Estate. Our impact to Hawaiʻi's defense community in the Indo-Pacific, to include Hawaiʻi spans more than 20 years. As a global company with a substantial workforce in Hawaiʻi and the Indo-Pacific region, we routinely engage in and establish relationships that are essential to being part of the fabric of this uniquely diverse community. It is our responsibility as leaders in our field to take part in collective action to address the economic challenges facing our Aloha State. Partnerships are vital so we understand the importance of listening to and collaborating with Hawaiʻi's educational institutions, other local businesses, and community and business leaders to not only understand the issues at hand, but to leverage our capabilities, resources, and partnerships to build a stronger, more resilient, and skilled workforce. 

Inspiring, Discovering, and Developing New Talent
Booz Allen is reinventing how it attracts and retains top, entry-level talent. Our goal is to spark interest and scout talent in college students, help develop that talent, and build a pathway for them to start careers in the defense industry at home where they can also give back to their communities. We have supported internships in Hawaiʻi for over 15 years and seven years ago, we introduced the Booz Allen Summer Games to Hawaiʻi to bring together aspiring engineers, data scientists, designers, and changemakers to create powerful solutions for real-world client problems. In 2022, Booz Allen co-sponsored the Hawaiʻi Defense Alliance's Summer Intern Spotlight at the Entrepreneur's Sandbox where college interns from the private and defense sectors shared their experiences, and employers had the opportunity to share their best practices and recommendations to help build Hawaiʻi's internship ecosystem.

At Booz Allen, our culture of innovation empowers employees at all stages of their careers to be creative thinkers, bringing unparalleled value for our clients and for any problem we help solve. Our workforce development efforts range from college-aged entry level employees to veterans and military spouses with established skills, and focus on retaining and developing talent by offering robust training and certification programs to continually provide opportunities to upskill and refine their expertise throughout their career. We continually strive to build a workforce that is agile and prepared to take on the technology and mission critical problem-sets of the future.

Building the Next Generation of Leaders
We believe in the value of investing time and energy in people; allowing and encouraging them to continually learn, grow, and reskill themselves over time is our success in creating a generation of leaders. Our mentorship programs encourage our interns and junior staff to connect with senior staff and leadership to learn from their deep subject matter expertise and guidance. Our sponsored fellowship programs help integrate the established skills our departing military bring to our clients as civilians in the workforce. We are committed to making the next generation of Hawaiʻi business and community leaders ones that come from and continue to contribute to our islands.

Our Community Partnerships Make Us Stronger
Over the years we have built key synergistic relationships in Hawaiʻi that grow and sustain the local economy as well as our business. Booz Allen thought-leaders work with others across the state to build a technologically-minded local workforce. Partnerships and collaborations we foster include our corporate title sponsorship of the annual Hawaiʻi FIRST Robotics Competition, joining FIRST's global effort to inspire young people to be science and technology leaders and innovators by advancing STEM education and foster self-confidence, communication, and leadership. Other organizations we work with include the Hawaiʻi Technology Development Corporation, Chamber of Commerce of Hawaiʻi Military Affairs Council, Hawaiʻi Defense Alliance, Hawaiʻi Leadership Forum, and the Hawaiʻi Executive Collaborative's Technology Readiness User Evaluation (TRUE), an organization that creates a pathway for businesses to accelerate their adoption of technology. Our collaborations help these organizations develop best practices to succeed and in turn, create a rising tide that benefits our whole community in building a strong, sustainable, and growing skilled workforce in Hawaiʻi.