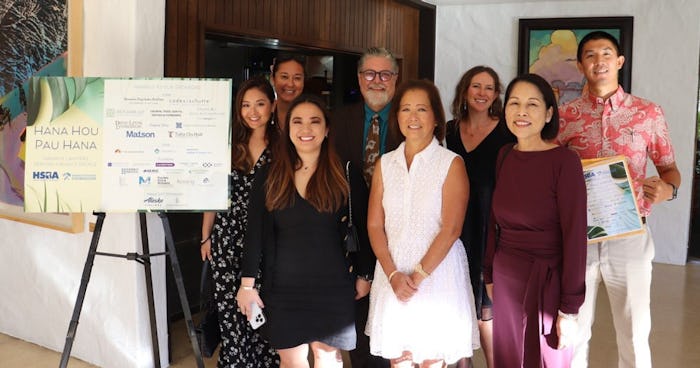 Jan Boivin, Omidyar Fellow and board member of the Hawaiʻi State Bar Foundation, shares an update on legal efforts for the Maui community:
The Hawaiʻi State Bar Foundation (HSBF) has been actively supporting legal services relief efforts following the Maui wildfires. Partnering with the Maui County Bar Association (MCBA), HSBF supported the distribution of resources at evacuation and information centers immediately after the tragic events. HSBF and MCBA have also onboarded a coordinator to match the on-island triage needs with the pro bono efforts of the Hawaiʻi State Bar Association (HSBA). 
As the Maui community moves forward, HSBF will continue to partner with MCBA to provide links to seasoned attorneys with experience gained from supporting survivors of wildfire and other disasters. Mahalo to Omidyar Fellow Emily Porter for providing an introduction to Harvard University's Disaster and Recovery alumni network.
HSBF will be engaged in two near-term projects. First, HSBF plans to meet with HSBA and the judiciary to discuss the creation of a systems map of the legal services needed to triage and rebuild Maui. The creation of the map has the potential to unify intentions and could provide a tool to gain the assistance of key stakeholders. Those involved could then strategize and collectively tackle challenges, for example, redefining the definition of a household for relief purposes, getting ahead of the delays and/or impediments of the federal procurement process, and identifying gaps such as assistance for families with intermediate income levels who may not qualify for free legal services. Mahalo to Omidyar Fellow Noelani Kalipi for volunteering to assist with the systems mapping process. 
Second, HSBF is exploring an opt-in disaster mediation program for residential insurance claims, spearheaded by Mediation Center of the Pacific.
To date, HSBF has raised over $80,000 to support these efforts. For more information, or to support legal services relief for the Maui community, please visit HSBF's website.
---
Next Article
Applicants Sought for Nā Manu 'Elele Steward Program
October 2, 2023
Lahaina News — Kupu is proud to announce its partnership with the state Department of Land and Natural Resources launching Nā Manu ʻElele Steward Program. The program will employ 24 individuals to steward sensitive natural and cultural areas across the Hawaiian Islands.
Read More