Fellows Spotlight
"Hardware for the Holidays" Donation Drive Gives New Life to Your Old Computer
December 28, 2020
The Kuauli Digital Opportunities Initiative has launched a computer hardware donation drive on O'ahu to help families in need get better access to technology.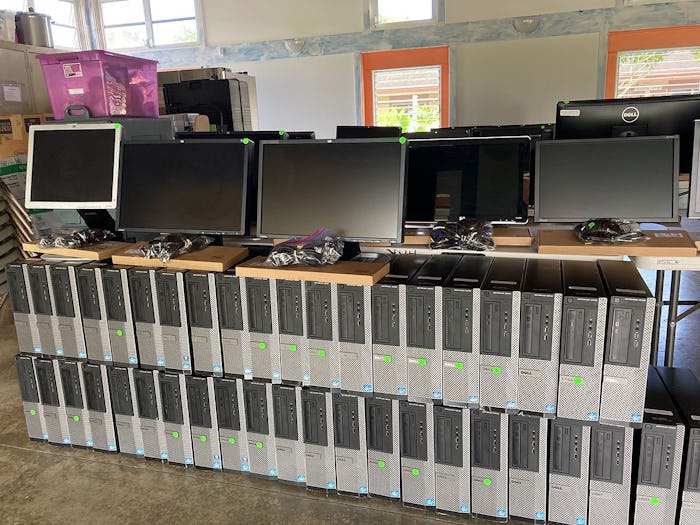 With new tech being a popular gift for the holidays and many upgrading their own devices as the year ends, you might be wondering what to do with your old computers, phones, or tablets. The Kuauli Digital Opportunities Initiative (KDOI) has a solution that will keep your hardware out of the junk pile and instead put it into the hands of those who need it most.
Now through January 31, 2021, KDOI and their partner, Hawaiian Hope, will accept donations of computer/digital hardware that is no longer needed. The donated items will be refurbished by Hawaiian Hope and distributed in communities across Hawai'i. Acceptable items include:
Desktop & Laptop Computers

Servers

Flat-panel computer monitors/TVs

Keyboards, Mice, Cords, & Cables

Laptop Power Supplies

Cell phones, Tablets, Hotspots
"Kuauli was created to immediately address the need in our rural communities for access to computers, exposed by the chaos of the COVID-19 pandemic," said Brad Bennett, Kuauli Network Coordinator. "The computers we provide are at no cost to families."
Hardware donations are welcomed from both individuals and businesses, and must be scheduled in advance by contacting Hawaiian Hope at 808-352-8800 or donations@hawaiianhope.org.
Monetary donations and volunteers are also appreciated. For more information, contact Brad Bennett at auamoconsulting@gmail.com.
KDOI is a community coalition that aims to address the digital equity gap that has been amplified by the pandemic. Since launching in April 2020, KDOI has delivered 300 computers statewide to communities and families. Through their distributions, KDOI has also captured data, stories, and learning lessons that contribute to the broader conversation on how Hawai'i can effectively bridge the digital equity gap.
Hawai'i Leadership Forum is a sponsor of the Kuauli Digital Opportunities Initiative. Omidyar Fellows who are members of KDOI include: Brad Bennett, Forest Frizzell, Noelani Kalipi, Mahina Paishon-Duarte, Chris Sakuda, Ben Treviño, Stephany Vaioleti, and Nicole Velasco.
For a full listing of members, sponsors, and donors, and to learn more about KDOI, read their press release. For more information about the donation drive, view their flyer.