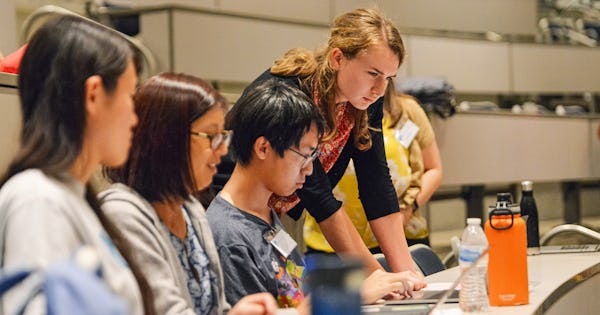 Just prior to the pandemic, Booz Allen Hamilton's Honolulu office, led by Cohort IV Fellow Bob Lietzke, and the Women in Data Science group, in collaboration with educators from Punahou School, joined the Hawaiʻi community in hosting a hackathon titled "HACKtheWAVE" to support the fight against ALS.
This event brought together people interested in creating unique design-thinking solutions to generate new ideas to battle ALS, a degenerative and life-threatening neurological disease that currently has no cure.
Community members with different levels of experience and background gathered around a commitment to making strides against ALS. The participants built two applications focused on helping patients. One of the applications streamlined the process of food ordering and delivery for ALS patients on Oʻahu. The second application helped facilitate ALS-related equipment rentals, and had an interactive dashboard that mapped locations of ALS-related clinical trials.