Cohort VIII Fellow Darragh O'Carroll reflects on leading an emergency disaster response team in the Bahamas after the catastrophic Atlantic hurricane in 2019. He also shares an article he wrote and published in 2020 that documents the aftermath and aims to bring awareness to climate change.
As Category 5 Hurricane Dorian approached Abaco island in the Bahamas on September 1, 2019, the unthinkable happened. The westward movement of the most powerful hurricane to ever spin through the region stalled to just 1 MPH.
Disaster response agencies collectively held their breath while sustained winds of 185mph, gusts of 220mph, and a storm surge of 20 feet raged on the island for more than two days. Eight days later when I stepped foot on Abaco with Team Rubicon, even our experienced responders could not believe what they saw. It was apocalyptic. 
To convey the extent of Dorian's devastation The Wall Street Journal entitled their coverage Opening the door to Hell Itself. In their piece a WSJ photographer caught myself, my team, and the UN disaster coordination agency looking like deer in headlights. In the attached photo, we were being told the island had no petrol reserves left to run our response vehicles. We had already siphoned every automobile above the storm surge line, and without fuel, how was anything going to continue?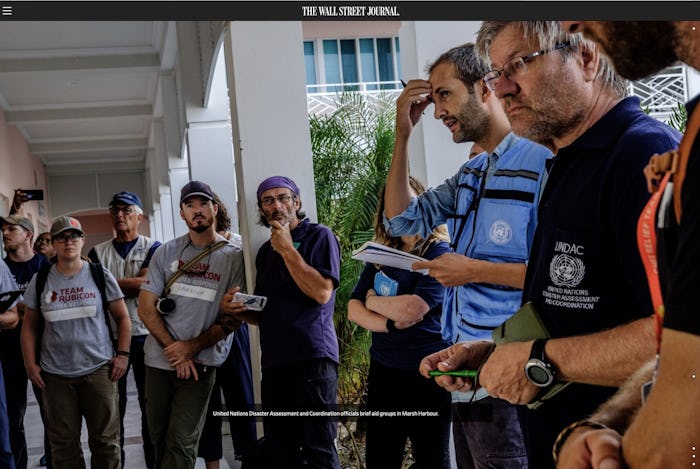 My primary role for Team Rubicon was to coordinate their medical response. For two weeks I slept on a hard treadmill in the basement of a powerless 4-star resort, drove a nearly windshield-less minivan as my ambulance, ate MREs for every meal, medevaced a volunteer having a heart attack, sutured a child's forehead on a living room table, and shockingly uncovered a bloated teenage body under the rubble on operation day 3. But because Team Rubicon was not able to arrange a photographer during that two-week period, my secondary role was to document. Along with my stethoscope, I brought a pencil, a waterproof notebook, a tape recorder, a camera, and a drone. The latter proved useful for HQ scouting and logistics, but with everything else I wrote and photographed "The 2010s Taught Us Climate Change is Affecting Our Health."
The goal of the piece was to bring awareness to the health affects of climate change. Dorian's official death toll was 74, but a year later more than 245 people were still missing, and 30,000 people remained either homeless or jobless. Most of the uncounted souls were poor and undocumented Haitians unable to evacuate for fear of deportation. This has been a feature across the world—those least contributory to greenhouse gas emissions continue to bear the brunt of the consequences. Beyond meteorological disasters, the health implications are vast and becoming more apparent, with new climate & health textbooks being published at a fervent pace over the last several years.
But as I took tentative steps and turns throughout the debris covered roads, I also thought about how Hawai'i would fare. My ultimate conclusion was… we would not fare any better, and maybe even worse. I thought about how fortunate Hawai'i has been to escape direct landfall from a major hurricane for so long. When will our luck run out? What can we do to combat it?
If there is any takeaway, it is from this paragraph: "As a disaster response physician, treading through Dorian's ruins, listening to survivor stories, and attempting to rationalize the grotesque nature of this thrashing was vertigo inducing. If what climatologists say is true, then all of us, everyone with a carbon footprint, played a hand in this catastrophic disaster—and on an afternoon just outside of Marsh Harbor it left even the hardiest of men speechless, in white Tyvek suits, retching on the smell of an exploded pig carcass baking in the hot Bahamian sun."