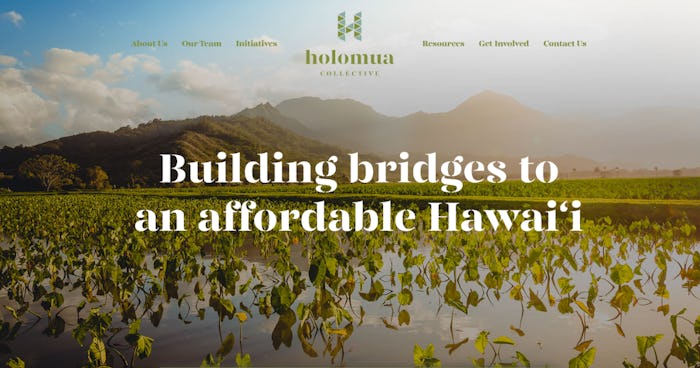 In our latest issue of Taking on Tomorrow, we asked Fellows to answer questions about the ways they practice leadership in their lives and with the nonprofit organizations they lead. Here's what Josh Wisch, president and executive director of Holomua Collective, had to share:
How do you practice leadership as an activity?
Here are two specific examples from my work history that involved combinations of listening, showing up, and sharing resources:
When I was special assistant to the Attorney General, part of my job was to act as a liaison between the department and the legislature. This included reviewing testimony submitted by the department. I had no official authority since none of the deputy attorneys general reported to me, but I also saw a way to improve our process of working with the legislature. So, I worked to sell this new process to the department. I set up brown bag workshops on the legislative process and invited everyone from the department to attend. I worked individually with attorneys regarding their testimony and how to best work with legislators. I met with legislators to explain the new ways the department was approaching things. I answered questions, listened to recommendations, and made adjustments. This new process became the model for how the department is still working with the legislature, which wouldn't have happened if we hadn't taken the time to work as a team to co-create it.
In my current role with Holomua Collective, much of what we're doing is based on trying to build relationships and identify areas for cross-sector collaboration. There is no single leader when working to find common ground between nonprofits, for profits, government, labor, and more. For this legislative session—since we're a new organization—several partners suggested that rather than promote our own new legislative agenda, that we work with other groups already pursuing specific policies. That's what we did. This included showing up for hearings and meetings when our partners asked us to be there, sharing the results of polls we commissioned with our partners to use as they best saw fit, using our own relationships in an appropriate way to help open doors that may have otherwise been closed, and bringing in unlikely bedfellows to support bills to break new ground. We've also initiated cross-sector convenings specifically intended to find common ground, as well as trainings to improve the overall understanding of how government works and increase civic engagement.
"We recognize that nobody has all the pieces of the puzzle to making Hawai'i more affordable, but everyone has some of the pieces."
What are important challenges Holomua Collective aims to address?
Our mission is to make Hawai'i more affordable for all working families. When we talk about affordability, we mean all the increased costs that contribute to making Hawai'i so expensive: housing, healthcare, energy, education, transportation, wages, and more. And when we talk about all working families, we mean everyone who is working to make a living. We want to simultaneously address the acute situation of people who can't afford to make ends meet right now, while also addressing the long-term problem of making sure that middle-income families don't choose to "vote with their feet" and leave Hawai'i for California, Texas, Nevada, or other places to live more comfortably. These problems are too big for any one person, group, or sector, so leadership as an activity is the only option.
What are some risks Holomua Collective has taken to practice leadership?
We recognize that nobody has all the pieces of the puzzle to making Hawai'i more affordable, but everyone has some of the pieces. So, one risk we're taking is putting much of our energy into bringing people together across sectors to co-create solutions to complex problems rather than unilaterally proposing and working to implement our own solutions. I describe this as a risk because in many ways it would be quicker and "easier" to simply move forward on our own. But we understand that while we could get some wins in the short-term, it is not a recipe for long-term, sustainable success. We need to all work together.