Fellows Spotlight
Omidyar Fellows Coach UH Law Students in Second Island Leadership Lab
April 10, 2023
Twenty students from the William S. Richardson School of Law successfully completed the second Island Leadership Lab course in November 2022. This important effort shares the leadership skills, tools, and training used within the Omidyar Fellows curriculum for Hawaiʻi law students.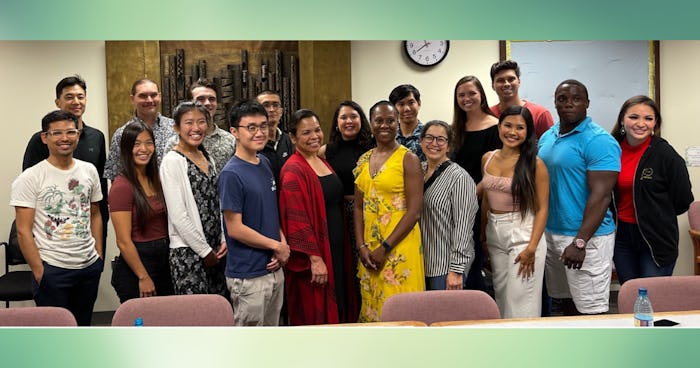 The program was founded in 2021 by Omidyar Fellow Joshua Stanbroa nd Dean Camille Nelson. A group of Omidyar Fellows has actively participated in the program, teaching and facilitating practical application exercises, including the "Dr. No" scenario created by Sheila Heen.
The program, based largely on the Omidyar Fellows curriculum of "I, We, It," featured Conversations with Leaders including Suzy Vares-Lum, Makalika Naholowaʻa, Kamaile Turcan, Jonathan Rapping, Amy Kalili, and John Gotanda. From CliftonStrengths and MBTI to Difficult Conversations to Systems Mapping and Theory U, students had the opportunity to learn theory and practice their skills, creating the "courageous space" to engage at all levels. Two students from the first cohort co-taught this year's course with Dean Nelson and Omidyar Fellow Noelani Kalipi.
"The Island Leadership Lab has been a success with our students. We had to start a waiting list for Cohort 2, and we have already received several requests from Cohort 2 to serve as teaching assistants for Cohort 3," said Dean Nelson. "Our students appreciate the learning in a different environment where they need to engage–to have substantive and uncomfortable conversations as part of learning how to use these tools and skills. I can already see how these experiences are strengthening relationships personally and professionally."
In November, the students organized a meeting between Cohorts 1 and 2, which widened the pool of support for the joint practice of tools, skills, and techniques at the law school.
"The legal profession has a tremendous influence on leadership and systems change in Hawaiʻi. Helping to create the space for students to incorporate these practices this early in their career is truly an honor. I've learned so much from them," said Noelani Kalipi, who helped to teach the class in 2021 and 2022. "It's great to see so many of the Fellows engaged with these students who are so passionate about serving Hawaiʻi and its many communities. I look forward to the many things we will work on with them in the future."