Music has always been a big part of my life. I've been playing in bands for decades (high school geekdom paid off!), but until recently I didn't fully appreciate how many leadership and life lessons it provided.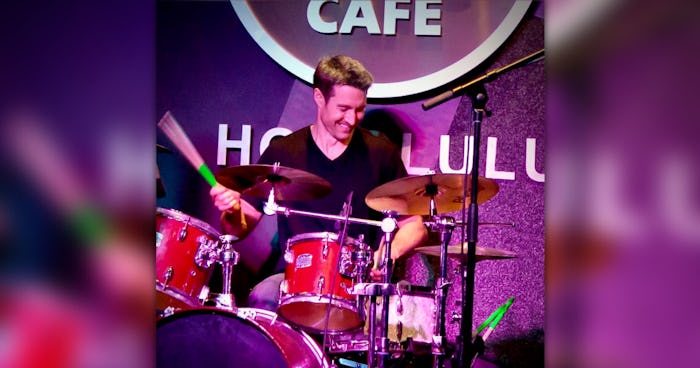 Playing music well with others is an exercise in listening deeply, collaborating fluidly, and finding your voice. While you are focused on your instrument, you also need to get up on the balcony and feel the overall sound—and adjust accordingly. Playing also fosters flexibility, adaptability, and the ability to improvise—all of which are helpful in leadership and life. If you are fully present in the music and having fun playing, chances are it will sound pretty good to the audience.
There's no question that creativity and play are force multipliers in leadership and driving impact. I've certainly found this in my work leading sustainability organizations in Hawaiʻi. Creative endeavors let me tap into imagination and engage different parts of my brain, sparking new ideas and strategies to tackle tough issues. But more importantly, these extracurriculars provide a pathway to get out of my head altogether and move into a more embodied presence. Playing drums is one of those activities that becomes infinitely more difficult if you are too cerebral—you really must feel. I'm challenged with overthinking sometimes, so breaking out of my thinking loop and getting into my body is therapeutic.

Creative play unlocks fresh approaches to the challenges we face as leaders—especially in the face of structurally complex or changing situations.
Woodworking is another lifelong hobby of mine that also shifts focus to the present—and into your hands. I thoroughly enjoy creating and building something out of nothing, and life and leadership lessons abound in the process. It puts you in a state of learning, problem-solving, and innovating—and picking the right tool for the job. You start with a vision for something, but then yield to the process and material with which you're working. Woodworking is also a safe place for experimenting and making mistakes (too bad there's no wood filler for life's other screw-ups). It also provides plenty of opportunities to laugh at yourself—an essential attribute for a leader.
Which brings me to humor, another creative activity that we all need more of in our work (and play). This might just be comedic moments with friends, or—something I try to do weekly—submitting ideas for The New Yorker Cartoon Caption Contest. In difficult or high-stakes situations, laughter reduces stress, boosts engagement, and breaks down barriers. Levity is a lubricant that can unstick stuck thinking and keep things in perspective. We need that more than ever as we face the sticky challenges of climate change, economic and social injustice, and the myriad threats to our shared humanity. As the poet Ogden Nash offered, "Humor is hope's companion in arms."
Creative play unlocks fresh approaches to the challenges we face as leaders—especially in the face of structurally complex or changing situations. I find it also helps you recover a sense of possibility and abundance. Instead of being distractions from "important" work, creative endeavors that allow you to experience flow and embodied presence are powerful ways to strengthen your capacity for impact. The point of all of this? As a leader, sometimes it's good not to have a point—you want to be a well-rounded person.