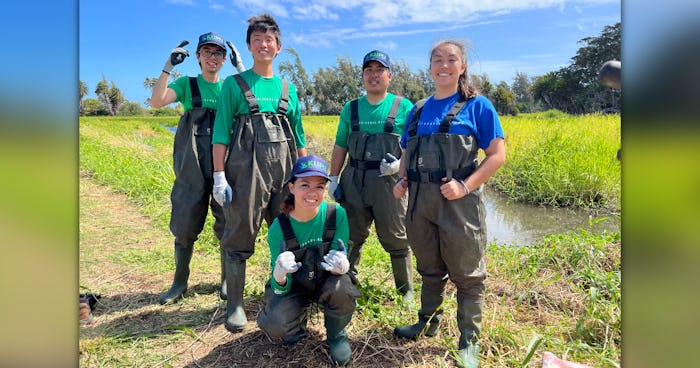 Kupu has worked over the last 15 years to engage young adults and youth in service around conservation and sustainability related projects. Our larger goal has been to develop the next generation workforce and leaders in these industries, propel our participants towards educational achievement, and engage the hearts of our young people through service to others and the environment. 
Kupu, a word whose meaning includes "to grow" in ʻōlelo Hawaiʻi, has been blessed to support much growth within our communities statewide. This includes empowering about 5,500 alumni, planting about 1.5 million native species, providing $153 million in socio-economic benefits to our state at a 1:3 cost-to-benefit ratio, and supporting hundreds of ʻāina-based partners with Kupu's participants. Next year, Kupu anticipates providing over 500 ʻāina-based positions, which the majority will be paid, year-round positions. This work is quickly building the next generation of sustainability leaders within our state and we are seeing many of our alumni become professionals, managers, nonprofit leaders, and entrepreneurs in related fields.

Kupu's work doesn't stop in the environment. The nonprofit has actively worked to develop programs that provide equity and opportunity to gain diplomas and higher education. Over 80% of our participants come from low-to-middle income households with 40% to 60% coming from households living below the poverty line. Our work to develop both educational opportunities and provide paid service within Kupu are helping to make a difference for those most in need within our state. A young person can go to schoolandearn an income. This creates equity and opportunity for those who need it the most.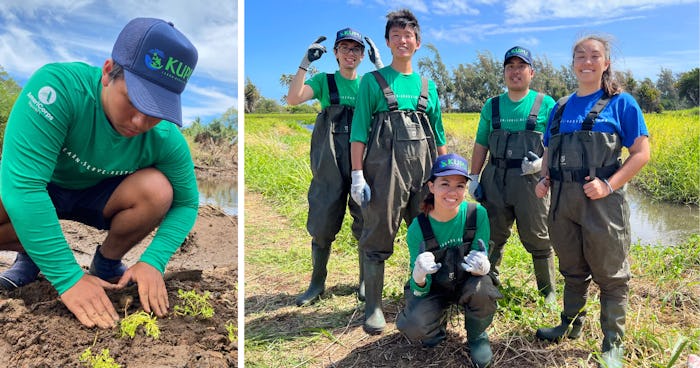 Kupu has also created an innovative partnership with the Department of Education as an Alternative Learning Center partner at its Hoʻokupu Center in Kewalo Basin. Students there will have the unique opportunity to work towards a full diploma, gain transferable job skills, and get wrap-around services; all while earning an income. Beyond our traditional green jobs, Kupu has also branched out to develop a culinary program that is run by our young people.

In addition to an awesome event space in Kewalo Basin, our most recent growth has been to develop a food truck with Cohort IV Fellow,Beth Whitehead, COO of American Savings Bank (ASB). This food truck is located at the ASB Campus and serves ʻono food weekdays during lunch. We also feature local products and sometimes even invasive species. Products like our smoked taʻape dip, that was created in partnership with Jhanna Young of Conservation International, take invasive reef fish and turn them into a delicious food. At the same time, it is creating employment and vocational training for Kupu's youth, some of whom come from challenging backgrounds.

Kupu also has programming that is working within our existing education institutions to inspire young learners towards the green workforce. It has been exciting to inspire young learners in the classroom as well as those seeking to be entrepreneurs. In partnership with the Kōkua Hawaiʻi Foundation, Kupu has put together an amazing micro-grant program to encourage sustainable entrepreneurship for students across the state. Students work in teams with mentors, like Elemental Excelerator, led by Cohort IV Fellow Dawn Lippert, to develop amazing ideas into workable solutions. This past year, Kupu provided close to $11,000 in micro-grants to 18 projects at 15 different schools. These projects engaged 223 students.

In all, Kupu's goal is to encourage the hearts of our members and our community. Our work is to empower young people to see their own potential and to provide them with the tools, network, and resources they need to move upward and forward in life. Kupu is blessed with an amazing team that truly loves each person we work with. Mahalo Ke Akua for all our great people, partners, and opportunities to serve.
For more information on Kupu, visit the links below.