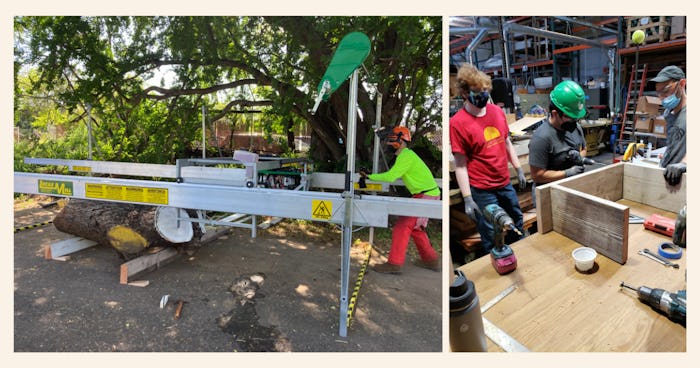 Re-use Hawai'i is an environmental nonprofit on a mission to transform the way we see the environment by turning "waste" into a community resource. Our two main programs drive this mission: deconstruction, a sustainable alternative to demolition; and redistribution, where the community can shop for reclaimed and surplus materials. 
Re-use Hawai'i's work cultivates the circular economy by designing out waste, keeping products and materials in use, and allowing natural systems to regenerate. Our most recent efforts include the Local Tree Reclamation Project and our Workforce Development Program.
The Local Tree Reclamation Project was created as a way to upcycle locally felled trees that would otherwise be sent to the chipper or the landfill. We accept tree donations throughout our community and offer all donors a tax-deductible donation receipt. This project has allowed us to offer local tree slabs at our warehouse, including monkeypod, ficus, and Norfolk pine. We are excited to see what our community creates from these beautiful, reclaimed resources. 

Our Workforce Development Program (WFD) was formed during the pandemic when we noticed the alarming instability of the local economy due to our reliance on tourism. Re-use Hawai'i created the WFD to strengthen our commitment to the community by sharing our knowledge with those seeking to expand their skills. We celebrate the diversity of our community by including people of all backgrounds and abilities and offering them sustainable job training and mentorship. Our WFD journey has infused Re-use Hawai'i with new and enthusiastic energy, inspiring us to further nurture and develop this program. 

Find reclaimed gems at our Kaka'ako Redistribution Center on Tuesdays through Saturdays. Until then, keep up with us on social media and stay tuned for our upcoming Earth Day challenges!