Contributed by: Transform Hawai'i Government
Cohort VII Fellow Chris Sakuda is the executive director of Transform Hawaiʻi Government (THG). This coalition advocates for a tech-savvy government that is efficient, responsive, and transparent enabling citizens, communities, and businesses throughout Hawaiʻi to thrive. THG aims to be the consistent and persistent voice of support and progress for government modernization across changes in state leadership, foster collaboration inside and outside of government in the spirit of advancing government IT modernization to better serve the public, and accelerate better government service delivery by providing early capital to high-impact government IT initiatives.

In May 2020, $17 million in funds were appropriated by the legislature for an ambitious modernization project: a unified Financial Management System (FMS) across all state agencies with the cornerstone in the state's operations hub, the Department of Accounting and General Services (DAGS). The implementation of a unified FMS is a crucial initiative that will replace the state's current 40-year-old archaic system.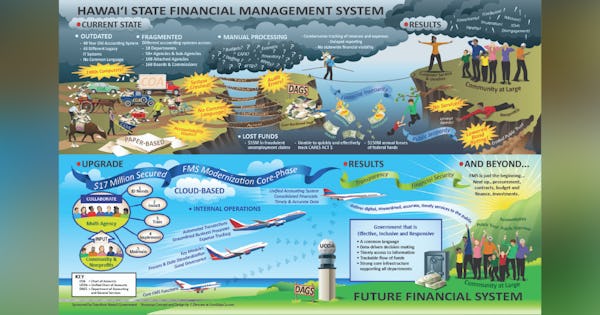 Benefits of the project include:
a cloud-based system that allows for greater visibility of data and resources;

an integrated and robust system that provides accurate and timely information across agencies;

a resource to real-time data and enriched reports and analysis to inform the state of financial distributions and guide state leaders in the decision-making process;

streamlined processes for state employees and an enabled digital workplace environment;

greater efficiency in procurement processes, invoice processing, and payments to contractors and vendors; and

easier access to government services for the residents of Hawaiʻi.
DAGS and the Office of Enterprise Technology Services (ETS) issued a request for proposal seeking vendors for an Enterprise Financial Solution and are currently in the final stages of finding a vendor.