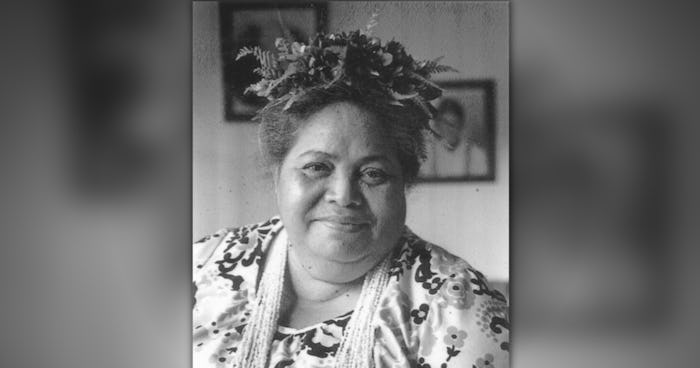 Cohort VII Fellow Kūhaʻo Zane writes about his grandmother, Edith Kanakaʻole, being honored by the U.S. Treasury.
We never got the chance to meet although I am more than blessed to hear your voice thru your oli and mele. The depth of wisdom delivered through your jubilant character, I cherish the words shared in each interview. The legacy you left lives as a vibrant energy in the air and is ready for empowerment through the simple words of E hō mai. But the gift that I appreciate the most Grandma, as you woke every day at kaiao ready to harvest any idea the crisp dawn could offer, my ultimate inheritance is your pursuit for creativity.
Mai ka hoʻokuʻi a ka halawai.
Aloha no,
Kūha'o'īmaikalani
Read the press release from the Edith Kanaka'ole Foundation:
Family and Foundation Honored By U.S. Quarter Designation
The family of Edith Kanakaʻole and the Edith Kanakaʻole Foundation is grateful for U.S. Treasury honors for the late cultural icon Edith Kanakaʻole
The late Edith Kanakaʻole, venerated Hawaiian cultural icon, kumu hula, composer, chanter, and a key influence in the Hawaiian renaissance of the 1970s was designated an honoree of the 2023 American Women Quarters™, a program of the United States Mint.
The honor will be shared with four other women trailblazers, former First Lady and first chair of the U.N. Commission on Human Rights Eleanor Roosevelt, first African American and first Native American woman pilot Bessie Coleman, Mexican American journalist Jovita Idár, and Maria Tallchief a Native American and America's first major prima ballerina.
"This is an unbelievable honor for our family, for our body of work at the Edith Kanaka'ole Foundation in carrying on her legacy and her teachings, for our home and for our people," said Kanaka'ole's granddaughter and executive director of the Edith Kanaka'ole Foundation Huihui Kanahele-Mossman, Ph.D.
Kūha'o'īmaikalani Zane, Kanaka'ole's grandson and president of the board of directors of the foundation established in honor of her life's work said, "this high recognition reminds us that our work at the foundation continues to be relevant, our research and our practices continue to have meaning and application."
Pualani Kanaka'ole Kanahele, Ph.D., a daughter of the late Kanaka'ole, a cultural resource herself said, "my mother was a 'pusher' but she always did it with a smile. She pushed all six of her children, when it was not yet a natural process for Hawaiians, towards Higher Education to earn a degree. When she became an instructor at the University of Hawaiʻi in Hilo she encouraged Hawaiian students to 1) maintain their stay and earn their degree, 2) know who they were as Hawaiians and elevate the status of the Lāhui."
The U.S. Mint Deputy Director Ventris C. Gibson said, "the range of accomplishments and experiences of these extraordinary women speak to the contributions women have always made in the history of our country. I am proud that the Mint continues to connect America through coins by honoring these pioneering women and their groundbreaking contributions to our society."