Cohort VIII Fellow Jocelyn "Josie" Howard is from the small island of Onoun in Chuuk State of the Federated States of Micronesia. Today, she calls Hawai'i home, and although it's a far distance from where she grew up, she continues to cultivate a tight connection to her culture.
Josie (who gets her name from her grandfather's nickname "Joes" from the word "joker") is the CEO of We Are Oceania, a nonprofit that serves Micronesian communities throughout the state by providing support in navigating life in Hawai'i. Creating this bridge between cultures is something she's been navigating towards for her entire life.
A Culture of Caring
Josie has always been inspired by her community. As a child, she was surrounded by a crystal-clear ocean and a close family: her parents, grandparents, siblings, and lots of cousins. At the time, Onoun had a small population of about 200-300 people. They lived off the land—getting food through farming and fishing—and families shared resources with each other.
 "It's a culture of caring for one another: open walls, no division, no ownership," she says. "When we were cooking taro in our cooking house, we'd invite anybody who'd walk by to come eat and talk story."
Strong family relationships, respect for others within the community, taking care of each other, and giving back are the things she says makes the Micronesian culture special.
"All the sharing, I love that about our community," she says.
"...one of our great assets is our culture. Our culture of caring for one another. Not just Micronesians need that. Everybody needs that."
Culture Shock
When it came time for high school, Josie moved in with her cousin and her cousin's family to attend Xavier High School, a private school on Weno island in Chuuk Lagoon. It was a far move for Josie, about 160 miles across the ocean from her home in Onoun. While it was an opportunity to further her education, Josie remembers the transition being challenging.
"If you're not from [Weno], then you struggle with hunger because you don't have enough food or enough land to plant on," she says. "I remember coming home and going to sleep early just so I could avoid feeling hungry."
"They had a different culture," she says of the community in Weno. "It's not the close-knit community that I grew up with back home [in Onoun]. For me, my culture shock started when I moved from my island to the Lagoon."
Still, she's grateful for the family support she received during high school. "I really appreciated what my cousin did for me, because I know how hard it was to make ends meet with me living with them," she says.
This would be the first of many distant travels and large adjustments for Josie, each one preparing her the next point on her voyage.
"You Are Ready"
Josie's parents expected her to return to Onoun after finishing high school to work as a teacher. However, she had different thoughts.
"My world was opening up, my horizons started to expand, and I started to see college as an opportunity," she said. She was afraid that her parents wouldn't allow her to go to college even farther away.
She decided to take an entrance exam for the College of Micronesia. Not only was she accepted, she was also offered a scholarship that would cover many of the costs. She went home to present this plan to her parents and asked if she could go.
"My father said, 'OK, we will try this; you'll go to Pohnpei and we'll see how you last,'" Josie remembered with a chuckle.
She moved to Pohnpei island for college where she stayed with an uncle who mentored her and considered her like one of his own daughters.
"That experience really helped my transition into coming to college in America," she says. Within the first year, her uncle told her, "You are ready to go off to the outside of Micronesia," and he helped convince her parents to let her attend school abroad. She chose the University of Hawai'i at Hilo.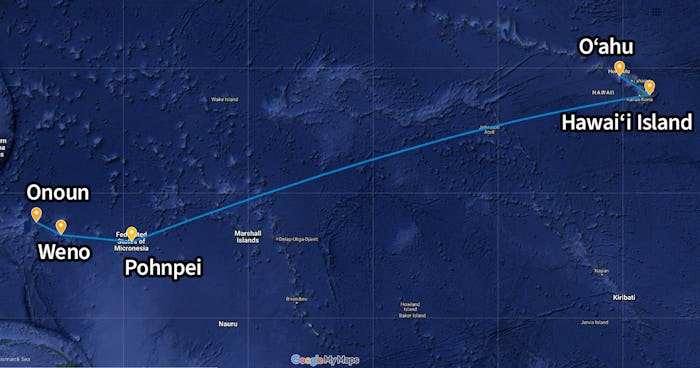 From Onoun to Hawai'i Island
Josie landed in Hilo in August 1989. She recalled the distressing experience of moving into her dorm room.
"The culture shock was so tremendous," she remembered. "For one whole week, I was by myself. I was so lost. I was used to growing up and sleeping beside my sisters and cousins. It was hard for me to sleep at night because I didn't have anyone in the room."
Another thing she needed to plan for was money. "I had $200 in my pocket. I thought it was a lot of money," she says of her arrival in Hawai'i. Fortunately, UH Hilo had built a very supportive system that allowed her to stay in the dorm and register for classes until her scholarship money came in. The counselors also helped her find jobs to help pay for other expenses.
"I held three jobs on campus, and one off campus," which included being a campus dorm resident assistant and a student lab assistant. While at UH Hilo, she also launched a Campus Ministry program at the university.
"I really believe that part of my success at UH Hilo is attributed to my faith in God," she says.
"I can see now more of our Micronesian youth are going to college, getting more PhDs, and [writing] more published research articles."
Though Josie started as a biology major with the goal of becoming a doctor, taking an anthropology course shifted her focus.
"I learned how ignorant I was in valuing my own culture and realized that the most important need was to realize [my culture's] strength and help [Micronesian people] navigate success in a westernized, globalized world," she says. 
She began to take more anthropology classes and studying other cultures, eventually achieving her bachelor's degree in anthropology in 1996. She also started an orientation program at UH Hilo for new Micronesian students, helping them understand Hawai'i's culture and make their transitions easier than her own.
"When I moved here, I knew I wanted to help more Micronesians go to college," she says. "It was college that allowed me the experience to see the bigger picture for me and my community."
Launching We Are Oceania
Through Josie's work as a program coordinator with Goodwill Industries, she saw first-hand how decision-making on policies impacted people's lives, and how sometimes there was misalignment between what was needed and the services being provided. She knew that influencing policy would be difficult from the position she held, and realized she needed to build her capacity to create the change she wanted to see. She seized the opportunity to return to school, this time attending the University of Hawai'i at Mānoa to earn her master's degree in social work.
Josie graduated in 2014 and shortly thereafter in partnership with the Partners in Development Foundation, Josie co-founded and launched We Are Oceania with the grand opening of their One-Stop Center. The creation of WAO fulfilled a need identified by the Micronesian community for a resource center that provided supports for Micronesian people living in Hawai'i. In May 2021, WAO became its own independent charitable organization.
Through COVID, WAO became an important resource for Micronesian families and for other ethnic groups in Hawai'i.
"During the pandemic we helped so many other people, not just Micronesians," she says. "We built a response to COVID that was so community oriented," which included supporting families from Hawaiian, Filipino, Samoan, Tongan, and other Pacific Islander and Asian communities.
When others have asked her, "What is the asset that Micronesians bring to Hawai'i?" she feels really proud about saying that "one of our great assets is our culture. Our culture of caring for one another. Not just Micronesians need that. Everybody needs that."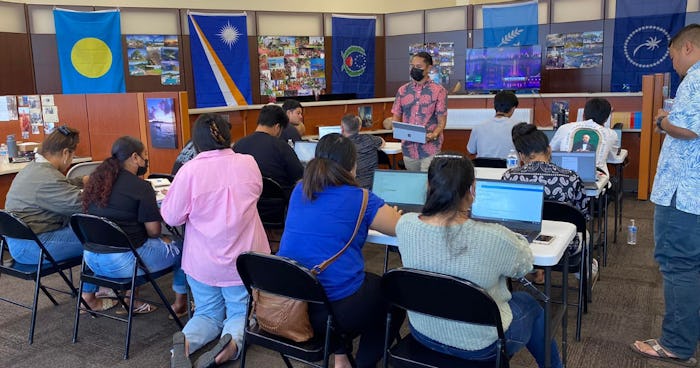 Aside from COVID, Josie has also seen tremendous progress in the Micronesian community in Hawai'i.
"I'm really proud of my community rising up to be business owners in Hawai'i," she said. "I'm also hearing more stories of students who are graduating from high school and college and having them go on to graduate programs. It's a big success."
In fact, WAO has prioritized the success of Micronesian youth by opening its first Youth Empowerment Center in Kalihi, providing young people access to mentoring, educational support, college preparation, and career opportunities. Last month, the Center celebrated its one-year anniversary.
"Our kids are our future," she says. "I can see now more of our Micronesian youth are going to college, getting more PhDs, and [writing] more published research articles. A lot of the time, our stories are not told."
"Through the Omidyar Fellows program, I've learned that learning my truth and accepting my truth really matters. It's really empowering."